Welcome to Breho Boxers!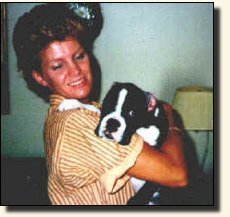 I'm Brenda Stuckey, and I live in Jonesboro, a small town in North Central Louisiana. Although I was very enamored by the Boxer breed as a child, being close friends with my step-sister's big fawn sweetheart "Rocky", I did not have one of my own to love until my husband presented me with "Ripple" for Christmas in the late 1970's.
Many years and many Boxers loves have come and gone over the past years, but each one holds a very special place in my heart. I find that I can no longer sleep comfortably without a couple of Boxers snuggled close.
At Breho, I usually only have a litter here every year or two, since I always get too attached to the puppies and want to keep them all! I have tried to do the best by my Boxers and have been rewarded by their constant love and decent success in the show ring.
Though I started in the Obedience ring, I soon became envious of the Breed ring and wanted IN THERE! My first attempts at showing were, I'm sure for most, comical. But my first breed points came from my second Boxer, who was also grand lady at Obedience. My first owner-handled Champion was my much beloved "Buster Brown". He was my shadow, and my pride. I miss him still with every passing day. He left me a legacy of wonderful temperament in those that followed him and now share my home and heart. He was a true champion, inside and out!
Breho Boxers is a Member of: American Boxer Club Boxer Club of Louisiana D'Arbonne Kennel Club